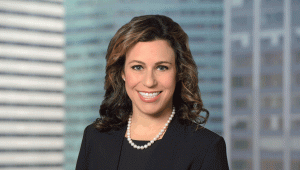 CRKL is pleased to welcome Effie Blassberger as a partner with the firm.
Effie Blassberger is a highly experienced trial attorney specializing in white collar criminal defense matters and commercial litigation. Prior to joining Clayman Rosenberg Kirshner & Linder LLP, she was an Assistant District Attorney in Queens County, where she prosecuted more than 600 cases and tried more than a half dozen to verdict as lead counsel. As a prosecutor, Blassberger handled a wide variety of matters including violent felonies, economic crimes, domestic violence, and narcotics offenses.
"Effie's proven talents as a prosecutor, combined with her deep understanding of the broader criminal justice system, and her passion for justice for victims of sexual assault, make her an exceptional fit for our firm," said Brian Linder, a partner with CRKL. "We look forward to her contributions across many areas of our varied practice."
Before serving in the Queens District Attorney's Office, Blassberger was a managing associate at Linklaters LLP where her practice focused primarily on white collar criminal defense, commercial litigation, and domestic and international arbitrations. At Linklaters, she represented clients on a variety of criminal and regulatory investigations conducted by the Department of Justice, the Manhattan District Attorney's Office, FINRA, SEC, and the U.K. Prudential Regulatory Authority.
Blassberger holds a JD from New York University School of Law and a BA (cum laude) from Cornell University.