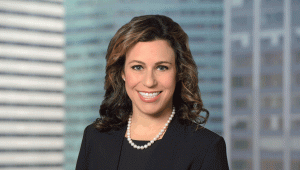 CRKL partner Effie Blassberger has been named as one of New York Law Journal's Rising Stars for 2023.
Each year, the New York Law Journal honors members of the legal community that have made a remarkable difference in the profession in New York. The Rising Stars list recognizes the region's most promising lawyers 40 and younger. Effie will be honored during the New York Legal Awards at Chelsea Piers in Manhattan on October 5, 2023.
Since joining CRKL in 2022, Effie has worked on diverse matters, ranging from representing plaintiffs in cases under the Adult Survivors Act (including representing a notable actress assaulted by Harvey Weinstein) and representing individuals in criminal matters and civil litigation in state and federal court.
In a field seldom populated by women, Effie has proven herself to be a resourceful and strategic defense attorney, combining a deep understanding of the broader justice system with a passion for representing victims of sexual assault.
Read more at New York Law Journal