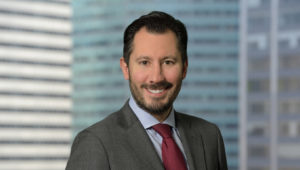 James F. Valentino, a partner with Clayman & Rosenberg LLP, has been selected as a Rising Star by the New York Law Journal, which recognizes the region's most promising lawyers 40 and younger. Winners were judged by an outside panel of experts and include individuals from some of the most prominent and largest law firms in the country. Valentino is the only 2020 NYLJ Rising Star winner practicing at a litigation boutique.
The annual Rising Star awards recognize innovative attorneys who demonstrate expertise in their area of focus and have significantly influenced their practice areas in New York and beyond. Winners will be honored at the New York Legal Awards event in Manhattan scheduled for October 2020
James F. Valentino has been a partner at Clayman & Rosenberg since 2018. He maintains a unique and versatile litigation practice which includes complex, high-stakes criminal and civil matters as well as employment-related issues. He also regularly represents senior-level employees in negotiations regarding terms of employment, compensation and severance packages.
Clayman & Rosenberg LLP is a nationally-focused legal practice dedicated to guiding individuals and business entities through the challenges posed by criminal, regulatory, and civil matters. The firm's core areas of expertise include Criminal Defense, Civil Litigation, Regulatory Matters, Employment and Appeals.
Many of the firm's attorneys are former federal and state prosecutors with the in-depth knowledge and judgement to help clients address difficult circumstances and resolve challenging problems with a minimum of risk.
The attorneys of Clayman & Rosenberg set themselves apart by truly practicing law together as a firm, drawing on the unique experience, skills and insight of each partner to deliver the best result for every client.